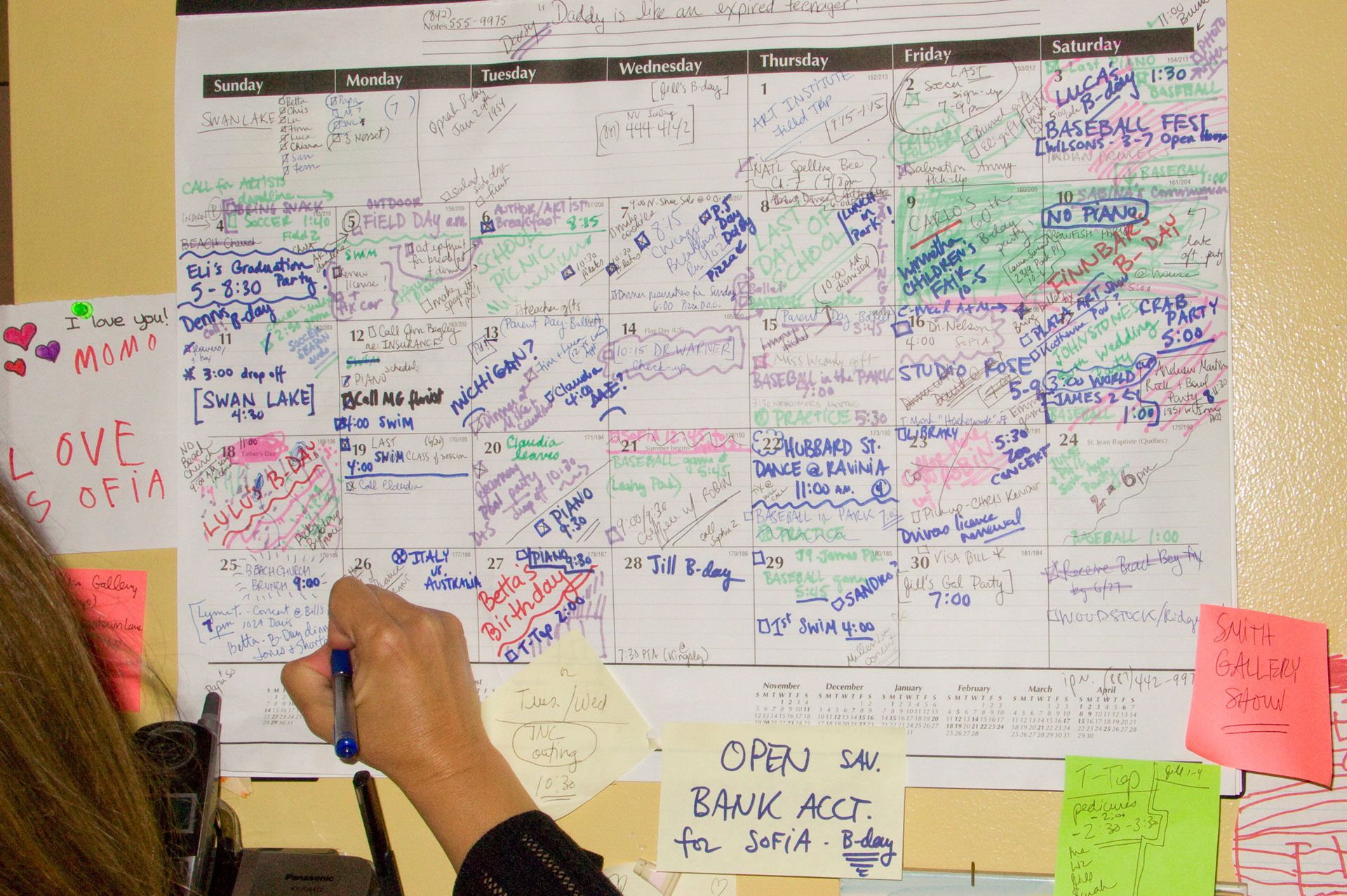 One of the most common questions I'm asked by homeschooling parent is, "How should we schedule our homeschool studies?"
There are two motives for scheduling.  One is good, and one is bad. 
The right motive in scheduling is to prevent time being wasted on tasks and activities that are not one's necessary work. A good schedule helps us to say "No." to distractions and work productively.  Such a schedule will consist of large blocks of time labeled "Work" and limited notes where other necessary tasks need to completed.  
The wrong motive in scheduling is to try and include 1,001 activities in a weekly schedule, in an attempt to do everything.  Such a schedule will look like a circus, and will allow no significant study or work to be accomplished. 
For example, my schedule, as a self-employed, professional Christian researcher, publisher and teacher, consists of one default activity:  Work.  I am in a chair, at my desk, working most of the day, every day.   My schedule tells me when my family will meet for prayer, when dinner will be served, when my daily exercise time will be, and if any sporadic tasks need to be taken care of outside of my regular work.  The goal of my schedule is to allow me to accomplish the mission of my life's work while also fulfilling my other responsibilities as a husband and father.  I don't schedule unnecessary activities INTO my schedule, I schedule them OUT of it.
Any students who wish to devote their lives to the pursuit of wisdom will need to devote their time and attention to study–not a small portion of it, but as much of it as is possible.  This is true of any vocation, but most especially the contemplative life, and I hope that more Catholic students learn to appreciate and pursue this life, which was much more common in the past than it is today.  One of the reasons Catholic children don't make progress in real studies is that they are too busy, with their energy and attention spread out over 1,001 activities, very few of which will help them in the long run.  This is one of the main reasons why there are very, very few religious vocations today.  The "well-rounded life" does not prepare a person for expertise or success in any field or work or study.  
Over 3,000 years ago, wise King Solomon wrote, 
Whatsoever thy hand is able to do, do it earnestly.
What this means is that we are to devote our time and energy to our life's work and work at it earnestly. The word "earnestly" means: "to work with great seriousness or intensity."  If a child is able to succeed in classical Catholic studies, he should pursue them earnestly.  He should not start and stop as the artificial schedule determines, but work at them as often and as intensely as he can, for as long as he can.  This is the only way to make significant progress in real studies and modern ideas of "school" where we separate "study time" from "work" and "play" were never taught or practiced by any wise men in history.
Yes, it is certain that we cannot study all day, every day.  We need to sleep–but not too much, for Wisdom warns, "Love not sleep, lest poverty oppress thee" (Proverbs 20:13).  We need to get physical exercise, but not too much, for "bodily exercise profiteth little" (1 Timothy 4:8).  We need to work, but we are to be "content with food and clothing" (1 Timothy 6:8) and are commanded by the Lord Jesus not to "store up treasure on earth".  Working for unnecessary things we desire, instead of things we are commanded to seek, is not true work.      
Treating all tasks and activities as if they deserve an equal place in our schedule is unreasonable.  Jesus warned busy Martha that "one thing is necessary" (Luke 10:42).  Scheduling so many activities into our daily plans that there's no time for any progress in wisdom and virtue is not scheduling.  It's organized dissipation.
Competing to see who can squeeze the most activities into the same weekly schedule seems to be the interest of most adults today when they speak of scheduling, but this is just a form of covetousness.  Adults tend to want everything and they believe that strict scheduling will help them to get it.  Thankfully, no one ever keeps these schedules for long.  The amount of time and energy–and money–is limited and the busy life is unsustainable.  These resources are not respected, but are subject to crazy desires and wishes that would require supernatural strength to obtain.  What happens is that the necessary work of the Christian life, the mission we're supposed to be progressing in, is moved out of the schedule to fit more and more useless activities, very few of which are truly necessary.
Eliminating this is the whole point of scheduling.
Scheduling is most important when we are working to establish a devout routine of life, work and study.   This is necessary for young adults in the process of building a balanced Christian life.  This is necessary for a young family trying to established a wisely ordered household.  This is necessary for a convert trying to break out of bad habits and replace them with good ones.  Over time, however, as life stabilizes, the schedule should become simpler and simper and should consist more and more of "work and prayer", which was the motto of St. Bendict. 
What should NOT be in our schedules is busy activities that take us away from our life's principal work.  This covetous spirit that desires everything will never allow you, or any of your children, to make any significant progress in study or work.  
When you look at what's available to Catholic children, you should ask, "How can we possibly make use of all of this content?"  If you are not willing to cultivate a contemplative, focused life for your family, you're not going to make progress–and you can't expect to.  You're going to end up with the same, shallow, dissipated modern education and culture everyone else has.
Many will argue and ask, "What are we supposed to live like monks and nuns?" and it's expected that I will say, "No.", but the reality is that St. Benedict modeled the monastery on the Christian family.  The family is not supposed to chaotic and full of distractions.  We are to be as holy and devout as possible, not intentionally mundane and impious as we wish because, well, "we're not monks and nuns". 
God bless,
William C. Michael, Headmaster
Classical Liberal Arts Academy
Mr. William C. Michael is the founding headmaster of the Classical Liberal Arts Academy.  He graduated from Rutgers University with an honors degree in Classics & Ancient History and is a member of Phi Beta Kappa and the National Association of Scholars.  Mr. Michael has worked in private education as a Classics teacher and administrator for over 20 years.  He is a Roman Catholic homeschooling father of ten children, and keeper of a quiet family farm in North Carolina.  Mr. Michael enjoys studying ancient natural philosophy, gardening, and running.